Commercial Garage Door Repair Services in Brentwood, TN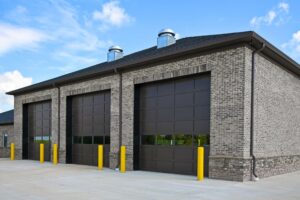 Malfunctioning garage doors can be disruptive to your business or even pose safety concerns. Fortunately for business owners in Brentwood, Tennessee, BT1 Garage Door Company offers swift and reliable commercial garage door repair services in this area. Whether you have a single garage door on your business or multiple bays with commercial-grade garage doors, you can rely on the experienced technicians at BT1 Garage Door Company to handle all of your overhead door repair needs.
Our Commercial Garage Door Service Options
As an experienced garage door company, we offer comprehensive garage door services to cover all of your needs in Brentwood, TN. Our technicians are highly skilled and experienced in all common garage door problems and can provide overhead door repair options like:
Replacing broken springs and cables
Getting jammed doors back on their track
Replacing damaged garage door panels
Addressing strange sounds during the door's operation
Replacing worn rollers and other moving parts
Repairing or installing a garage door opener
Additionally, BT1 Garage Door Company offers 24/7 emergency garage door repair services and can even provide repairs after regular business hours. We understand that having functioning garage doors is essential for your business's continuity, and we strive to provide the prompt and reliable service you need. In addition to our commercial garage door service options, we also offer new garage door installation services. If you decide that your door is outdated or has too many problems, you can turn to us for a full replacement using commercial-grade materials from top brands to ensure the best results for your business.
To learn more about the commercial garage door repair services we offer to all types of businesses throughout Brentwood, TN, contact BT1 Garage Door Company today.