Your Source for Emergency Garage Door Repair in Franklin, TN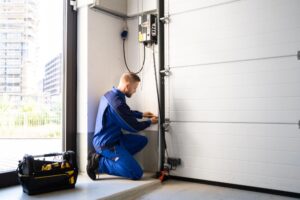 If your home or business in Franklin, Tennessee, has a garage door, there's a good chance that sooner or later you'll need emergency garage door repairs. And when you do, turn to BT1 Garage Door Company. We understand that you don't operate on a 9-to-5 basis, and neither do your garage door problems. That's why we take pride in offering reliable after-hours garage door services. In fact, we offer prompt, 24/7 service to respond to all sorts of garage door emergencies in and around Franklin, TN.
Why Choose Us for Your Garage Door Repairs?
When it comes to garage doors, it's best to leave any repairs or other service needs up to the professionals. It can be dangerous to try to fix your automatic garage door yourself because it's such a large, moving piece of equipment. This is especially true if a part has broken or the door has come off track. You can rely on BT1 Garage Door Company for emergency garage door repair services that can safely and promptly address problems like:
A garage door that has come off its track
A malfunctioning garage door opener
Broken springs, cables, or other parts
Damaged garage door panels
Trapped vehicles and other hazards
No matter what type of issues you're having with your garage door, the experienced technicians at BT1 Garage Door Company have you covered. We have extensive experience working on a wide range of residential and commercial garage door models, and our emergency garage door repair services will provide you with the prompt service you need 24/7. For fast garage door repair in Franklin, TN, turn to BT1 Garage Door Company. Contact us today to learn more about our emergency garage door repair services.