Emergency Garage Door Repair Services From the Professionals Serving Green Hills, TN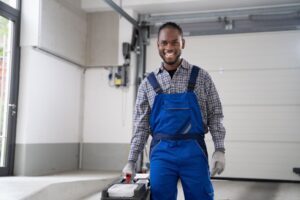 Do you need emergency garage door repair services for your home or business in the Green Hills, Tennessee, area? If so, turn to the professionals at BT1 Garage Door Company. We offer fast garage door repair services, including same-day service, and are known as the after-hours garage door company you can rely on for a speedy response in Green Hills, TN. What's more, thanks to our extensive experience working on all types of commercial and residential garage doors, we'll be able to identify and address any garage door issues you may be experiencing.
Common Garage Door Problems
With numerous moving parts and mechanisms required for your garage door to operate effectively, something's bound to go wrong at some point. Whether you've noticed strange creaking sounds that didn't occur before or a panel that's visibly damaged, you can turn to BT1 Garage Door Company for dependable garage door repair services. In fact, we've fixed everything from broken springs and cables to garage door openers that simply stop functioning.
Moreover, when you have a trapped vehicle that's making you late to work or garage door issues that are interfering with your business operations in Green Hills, TN, you can count on us to deliver top-notch emergency garage door repairs.
Contact Us for Emergency Garage Door Service
When you start experiencing garage door issues, BT1 Garage Door Company has you covered. Contact us today to request emergency garage door repair services. We proudly service garage doors on homes and businesses throughout the Green Hills, TN, area.