Residential Garage Door Repair Specialists Serving Hendersonville, TN & All Nearby Areas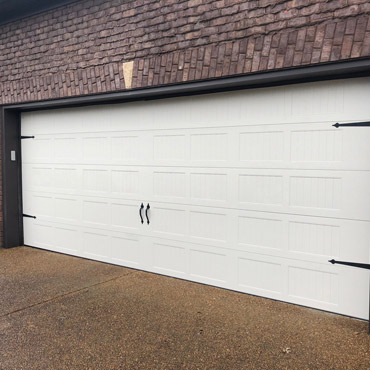 It's early in the morning and you're preparing for your commute in the Hendersonville, Tennessee, area. You get in your car and press the button to open your garage door. But, instead of the door opening smoothly, you hear a screeching noise before it jams or slams closed. What should you do now? It's critical that you don't try to fix your garage door yourself, as this can easily result in serious injury. Instead, call Middle Tennessee's premier provider of residential garage door repair: BT1 Garage Door Company.
Same-Day Residential Garage Door Repair
At BT1, our goal is to repair our customers' garage doors as quickly and affordably as possible. We offer same-day service and can even provide 24/7 emergency garage door repair—we're always here when you need us.
Regardless of what problem you're experiencing with your garage door, you can rest easy knowing that we'll provide an efficient and lasting repair. We won't simply put a temporary fix on the problem. Rather, your residential garage door repair specialists will diagnose the problem after a careful inspection and determine the best way to ensure your door functions reliably long into the future.
Our garage door service and repair can include solutions for:
Jammed, off-track, or reversing doors
Worn rollers, broken springs, and/or damaged cables
Damaged garage door panels
Garage doors that are making strange noises
And much more
Ask About Our Garage Door Maintenance Services
The best way to prevent problems with your garage door is to have it regularly maintained. BT1 offers garage door maintenance on a quarterly or biannual basis to provide you with peace of mind that you won't experience a sudden door failure.
For more information about the residential garage door repair services we provide in Hendersonville, TN, contact BT1 Garage Door Company today. We also offer free estimates.