The Commercial Garage Door Installation Experts Serving Hermitage, TN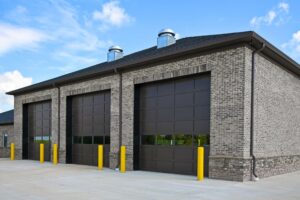 Are you looking for a trusted commercial garage door company serving the Hermitage, Tennessee, area? Turn to the professionals at BT1 Garage Door Company. We proudly offer commercial garage door installation services to businesses of all types and sizes, and we'd be happy to help you find the products and solutions that best serve your business needs.
Handling All Types of Commercial Garage Door Needs
Whether you have concerns about a garage door and aren't sure if a repair or replacement is right for you or you're planning to build a new commercial property complete with multiple commercial garage doors, BT1 Garage Door Company has you covered. We handle garage door projects of all shapes and sizes in Hermitage, TN, and offer installation, repair, and maintenance services to suit your needs. When you turn to us about a commercial garage door installation project, we can help you determine which of our services and products will work best for you. Then, you can rely on us to complete your project with precision and care.
Offering Ongoing Maintenance, Services & Repairs
In addition to offering top-notch garage doors and professional installation services to meet your commercial needs, BT1 Garage Door Company offers maintenance packages to help prevent problems down the road. Additionally, we back our services with strong warranties and will fully honor and service any warranty that comes with the commercial garage doors we sell.
Contact BT1 Garage Door Company today to learn more about the commercial garage door installation and related services we offer to businesses throughout Hermitage, TN.